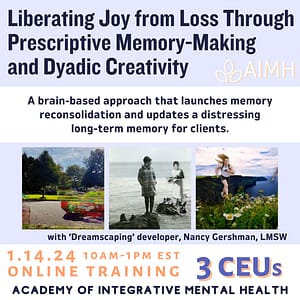 What if you could clear away all the heaviness of grief, permanently dial down the haunting sights and sounds of loss and attend to the unmet need—all by playfully editing a client's best memory of their Loved One as a mind-movie?
Helping your client detect novelty in their stories or imagery is what launches memory reconsolidation. Sounds like no big deal, right? But it's the #1 challenge for clinicians because we tend to hunt for the big Aha! instead of revering incongruity. Catching that entry point so you can change the meaning of the loss event, forever, for a client—that's an art form.
Pick up the technique on Sept. 10th in an experiential master class with the developer of Dreamscaping, herself.
Learn more and Register Here